Best Half-Year for German Caravanning Industry
The caravanning industry recorded the best half-year in its history despite the Corona pandemic and contact restrictions. A total of 62,839 motor caravans and caravans were newly registered in the first six months. This is 15.4 per cent more than in the first half of 2020, which had already given the industry a new all-time best. By the middle of the year, as many new leisure vehicles were registered as in the whole of 2017 – which was a new record at the time.

New motor caravan registrations continue to reach new heights
The outstanding half-year result was driven by new motor caravan registrations. These increased by 23.0 percent compared to the same period last year and reached a new record for this period with 48,728 vehicles. Last month also delivered a top result: 9,608 new registrations are 5.0 percent more than in June 2020.
New caravan registrations below previous year due to delivery problems
The situation in the caravan market is somewhat different. New registrations fell by 4.7 percent to 14,111 in the first six months. The month of June was also below the previous year's figure with 3,435 vehicles (minus 3.8 percent). Problems in the supply chains are primarily responsible for the decline, since the pandemic is still having a strong impact on the availability of components and raw materials worldwide. Manufacturers have many vehicles that are practically finished but cannot be delivered because a certain part is missing.
Newly registered leisure vehicles in Germany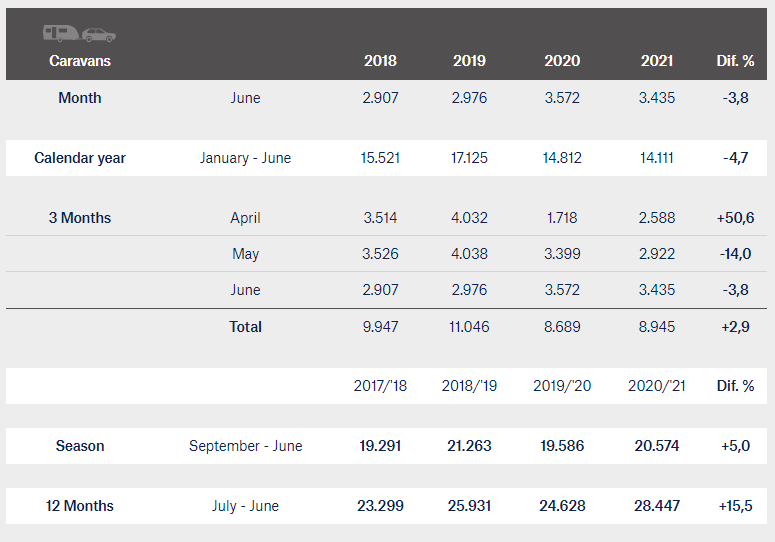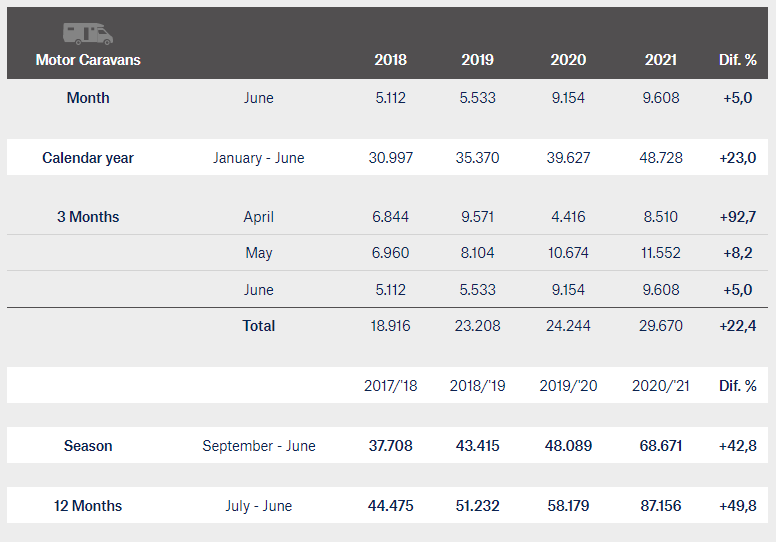 Source: CIVD evaluation of figures from the Federal Motor Transport Authority (KBA)