If this e-newsletter doesn't display well,please click here >>

Welcome to the No.1 trade show for motor homes and caravans in China!
Dear Sir or Madam,
The countdown of All in CARAVANING - daughter show of CARAVAN SALON Düsseldorf, has started: from 22 to 24 JUNE, at Etrong International Exhibition & Convention Center (Beijing), you can expect to meet the key RV manufacturers and suppliers in the emerging China caravaning and camping market!
In the last show of 2017, a total of 33,000 square meters of indoor and outdoor space have been booked. The number of exhibitors exceeded 650 (campsites included). 21,826 visitors from China and abroad visited the exhibition.
Now, the visitor pre-registration system has been open! You are highly advised to pre-register online to get the eTicket - your most direct, quickest way to get a free entry pass.
Click here to enter the visitor pre-registration system.
If you want more value-added services and make your business trip easier, you can book our tailor made Visitor Package .
For any information regarding your accommodation in Beijing, please click here .
We look forward to seeing you in Beijing on 22-24 June, 2018!
Your All in CARAVANING Team
Preview of AIC 2018 Highlights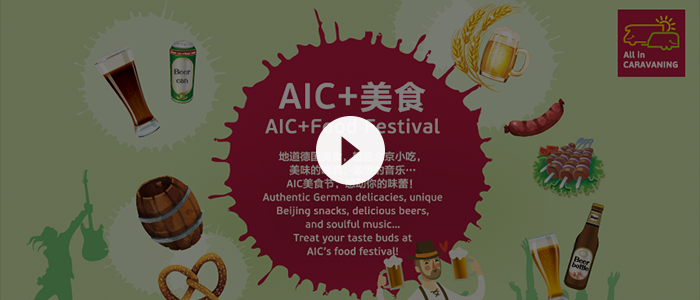 If you want to book a stand for exhibition, please click here to download Application Form Fill in your company's detailed information, and return to us by 20th May 2018.
A Full Upgrade of AIC 2018
AIC + New Venue

AIC + Caravanners

Etrong International Exhibition & Convention Center (Beijing): Increased exhibition space, improved facilities and services, more business opportunities!

AIC's first Caravan Fan Club debuts, incorporating a camping experience zone. Get ready to network and share your travel tales with caravan fans from all corners of the world!
AIC + Family festival

AIC + Outdoor recreation

The AIC Family Festival will launch a series of science and technology education programs, English drama performances, caravan hand paint contest, outdoor adventure and other interesting activities for parents and children to experience caravan and camping life in a lively atmosphere.

With a new outdoor camping experience area, AIC 2018 will provide visitors with outdoor sports experiences such as tactical games, rugby, and Michoo, breaking the boundaries while establishing a close tie between caravan and outdoor life!       
 AIC + World Cup

AIC + Food Festival

The World Cup special zone caters to football fans who can enjoy the excitement and wonder of the game! Welcome to sign-up for the Sino-German friendly football match!

Authentic German delicacies, unique Beijing snacks, delicious beers, and soulful music… Treat your taste buds at AIC's food festival!     

For any other information, please contact us or visit our official WEBSITE.

---
Contact us
Messe Düsseldorf (Shanghai) Co., Ltd.

Copyright © All in CARAVANING 2018