FAQ
Q1: What's the name of the exhibition?
All in CARAVANNING

2017
Q2: What's the date and venue of the exhibition?
Date: 23th – 25h June 2017
Venue: Beijing Exibition Centre, Beijing, PR.China
Address: No.135 Xizhimenwai Avenue, Xicheng District, Beijing 100044 P.R. China
Q3: Who are the organizer and supporter?
Organizers:
Messe Düsseldorf (Shanghai) Co., Ltd.
YASN International Exhibition Co., Ltd.
China National Travel Service (HK) Group Corporation
The Recreational Vehicle Industry Committee of China Association of Automotive
Manufacturers (CAAM)
China Self-Driving Tour and Camping & Caravaning Association (STCCA)of CTACA
Supporters:
Messe Düsseldorf GmbH (organizer of CARAVAN SALON DÜSSELDORF)

German Caravan Industry Association (CIVD)

Caravan, RV & Accommodation Industry of Australia (CRVA)
Q4: What are the participation cost and the basic facilities of a standard booth?
Participation Cost:
For Caravan/Motor Home Exhibitor Only:

Outdoor Raw Space:480¥ RMB/sqm (min. 60sqm)
Indoor Raw Space:600¥ RMB/sqm (min. 50sqm)

For Other Exhibitor:
Indoor Raw Space:845¥ RMB/sqm (min. 18sqm)
Shell Scheme:1,085¥ RMB/sqm (min. 9sqm)
Furniture & Electrical Entitlement of Shell Scheme (9 sqm):
| | |
| --- | --- |
| Item | |
| Style | |
| Carpet | |
| Fascia Board | |
| Info Counter | |
| Table | |
| Chair | |
| Spot Light | |
| Waste Basket | |
| Socket | |
Note: No financial credit will be given for any package item not utilized.
Q5: What's the deadline for booth application?
20th March 2017
Q6: Important Dates (move-in, move-out)
Build up / Move in

21-22 June, 2017

1) Official constructor move in
2) Floor making
3) Construction of shell scheme booth


8:30—17:30

4) Other constructors move in
5) Interior decoration of shell scheme booth


6) Stands/exhibits to be dressed and ready

7) Final hall cleaning

8:30—17:30




23 June, 2017

Trade/public visitors


9:00—17:00

24 June, 2017

9:00—17:00

25 June, 2017

9:00—16:00

Tear down/move out

25 June, 2017

1) Disconnection/cut off utilities supply
2) Deliver of small/medium packaging crates
3) Removal of light and hand-carried items
4) Return all the rented items

16:00—20:00
Q7: What are the main exhibit sectors?
- Caravans/trailers
- Motor homes
- Basic vehicles
- Park trailers/Mobile homes
- Detachable parts and components for caravans and motor homes
- Installations / Heating / Gas / Water
- Energy supply / Electrical installations / Electrical appliances
- Antennas /Receivers / Navigation systems
- Vehicle parts /Chassis units/ Axles /Trailer equipment / Accessories
- Tents
- Camping equipment and Parts
- Outdoor Articles
- Caravan Tourist Industry
- Campgrounds Infrastructure suppliers / Recreational equipment suppliers
- Campgrounds/Camping Parks Material Suppliers
- Campgrounds service and specialist sectors
- Rental Agents
- Purchase/Financing/Insurance
- Government insititutes /Association /Research insititutes
- Media/Press
Q8: What are the target visitor groups?
- Agents/Importers/Traders/4S Shops
- Caravan Manufacturers
- Caravans parts and components Agents/Dealers/Traders
- Campground Invester / Operator
- Travel Agency
- Tourism system/Scenic Spots/Hotel/Real Estate
- Tent/Camping & Outdoor Equipments Agents/Dealers
- Caravan Fans & Club
- Caravans/Camping industry related government insititutes/Associaiton/Research Institutes
- Media/Press
Q9: How to settle payment?
Please settle the full payment within 3 working days after confirmation of your application, in order to secure your booth.
Q10: Do you provide bilingual service on-site?
Yes.
Q11: How to apply for a parking space or a parking permit inside Beijing Exhibition Centre?
Parking Space: RMB 8 per hour, Limit parking space. First come, First serve.
Q12: How to arrive by metro?
Take Metro Line 2, Line 13 and take off at Xizhimen station, for Mero Line 4 and take off at Beijing Zoo station , and walk around 5 minutes to BEC. Please check out below Traffic Map for your reference.
For more transportation information, please refer to How to Arrive.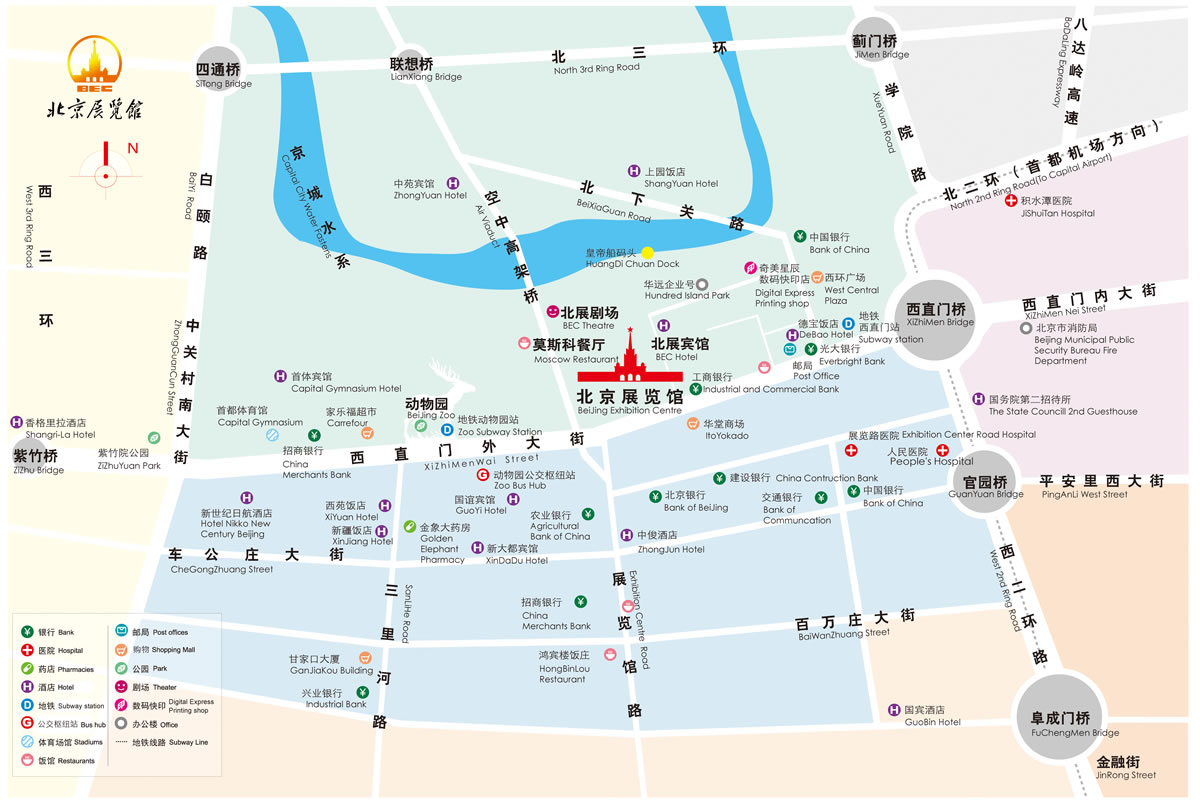 Q13: Are there any services such as copying, printing, etc, available onsite? If yes, where to find it?
Yes. It is in the Business Center.
Q14: When can I get the exhibits release permit on the last day of show?
14:00
Q15: As exhibitor, who should I turn to if I have more questions?
If you haven't found the answers to your enquiry from the above, you can contact us via:

Messe Düsseldorf (Shanghai) Co., Ltd.
Address: Units 307, Tower 1, German Centre for Industry and Trade Shanghai 88 Keyuan Road, Zhangjiang Hi-Tech Park, Pudong, Shanghai 201203
Tel: +86-21-6169 8300
Fax: +86-21-6169 8301
E-mail: shanghai@mds.cn
Website: www.mds.cn

Shanghai
Mr. Jay Miao
Tel: +86-21- 6169 8300 ext. 8332
Fax: +86-21- 6169 8301
Email: jay.miao@mds.cn
Beijing
Ms. Ivy Zong
Tel: +86-10- 6590 7101 ext. 8621
Fax: +86-10- 6590 7347
Email: ivy.zong@mds.cn
Shenyang
Ms. Queena Liu
Tel: +86-24- 2250 5105 ext. 8806
Fax: +86-24- 2250 5106
Email: queena.liu@mds.cn
Messe Düsseldorf (Shanghai) Co., Ltd.

Beijing
Ms. Yujia Du
Tel: +86-10- 6590 7101 ext. 8617
Fax: +86-10- 6590 7347
Email: yujia.du@mds.cn
Ms. Ivy Zong
Tel: +86-10- 6590 7101 ext. 8621
Fax: +86-10- 6590 7347
Email: ivy.zong@mds.cn
Shanghai
Mr. Jay Miao
Tel: +86-21- 6169 8300
Fax: +86-21- 6169 8301
Email: jay.miao@mds.cn